L'album
Plusieurs projets sont menés de front, comme c'est souvent le cas pour les navires qui voguent dans de drôles d'eau.
Our ship navigates on trouble (but sweet) waters, and several projects are breathing like healthy walruses at the same time.
L'album Social Silicium a vu le jour en mai 2019 et vous pouvez le retrouver en téléchargement a prix libre sur Bandcamp, ainsi que sur Spotify, Deezer, iTunes, Youtube. Plutot pour groover, et rêver un peu.
Social Silicium came out in may 2019 and you can download it for the price you wish to give on Bandcamp, as well as Spotify, Deezer, iTunes and other usual suspects. To groove quite a lot and dream a bit.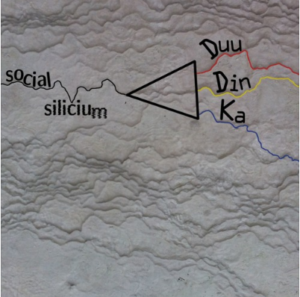 Live Project
L'album étant un pur produit de studio peu adaptable au live, un projet de solo live improvisé ambient (tout en gardant un amour inconditionnel pour le rythme) naquit au même moment. Il s'organise autour de la harpe modifiée, sons dans l'eau, synthé qui gribouille, objets d'ici et la, un peu de chant et quelques extraits de bouquins.
Ecoutable sur la playlist Drift and Draft
So frustrating to make music and not do any concert, isn't it ? So an improvised live solo based was born around the same time, quite ambient, with some noise aesthetics and still definitely in love with rythms. It's base on modified harp, under water sound takes, synths, objects from here and there, singing and spoken words.
Drift and Drafts it's called.
Video d'un live le 9 juin 2019 au Landy Sauvage. (c) Joan Dubuisson
Pour tout le reste – For everything else
Ecoutez, naviguez, laissez-vous porter par ces flots aux contours indéfinis, où une allumette devient seule batterie, et une cigalle cantatrice. Laissez-vous réveiller par une basse qui tabasse.
Let yourself breath in and out, get the sensation you're slowly drowning in a fluffy couch without noticing it, before your brain realizes what you're actually listening to is simmering apples.