Parallel road were travelled to arrive here. The classical trail learning harp at the conservatory joined at some point in my mind the one traced  by some incredible musicians of the 20th and 21st centuries, who were also never too far from physic experimentalists. The third path belongs to the moving category of arts, theater, and the passion to tell and improvize stories.
The intersection of the routes of classical harp education, electrons moving and made-up fiction lead to this.
All of this is also fed by the urge to blurry the line between on one hand what happens in this quality electroacoustic niche (serious bearded white men turning knobs) and on the other, irony and frivolity, or a necessary healing effect of music.
It's also a city in Siberia but we won't say anything more about this.
Trois droites avec un point d'intersection, c'est Duu Din Ka.
Un enseignement classique au conservatoire, une découverte de l'art du son, et le plaisir de raconter des histoires (plus ou moins sérieuses) qui éloignent un instant du monde raisonnable.
Ce projet sonore est donc le résultat d'un floutage nécessaire entre d'un coté le sérieux, le bruit complexe, l'approche parfois aseptisée et institutionnalisée de la musique électroacoustique; de l'autre l'ironie voire le cynisme, la légèreté ou le drame, la nécessité de soigner par un son-remède.
C'est aussi une ville en Sibérie, mais on en parlera pas ici.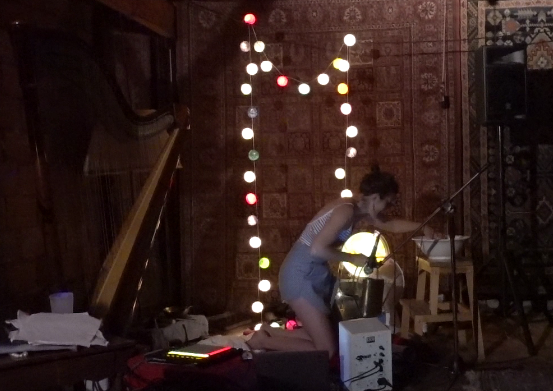 Genesis
Tout ces entrelacs se tissèrent en octobre 2015, dans une chambre, avec une harpe, un micro et un ordinateur. Les compositions se nourrissent d'un frichti de voyages, de sessions avec musicien.ne.s, improvisateurices et autres animaux, et de situations singulières du quotidien. En un mot, de tout ce qui se glane quand on laisse traîner son oreille et son micro l'air de rien, d'un email corse, à une conversation sur le jambon dans un super U en passant par une partie de poker estivale.
This all started in october 2015, in a bedroom, including a harp, a microphone and a computer. Compositions are fed with a frichti (nice french (?) word for a curious pot of food) of sessions with fellow musicians and improvisers, and unusual encountered situations. In a word, anything you can harvest when your hear or microphone is pretending it's not recording, from a corse email to a serious scientific interview, as well as summer never ending poker game.